Economy, Business and Jobs Caucus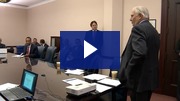 Monday, April 13, 2015
11:30 a.m.
Room 14 East Wing
Pennsylvania BIO and the Life Sciences Greenhouse of Central PA will present to us a legislative update on behalf of the life sciences community in the Commonwealth. They will report on employment, economic development and job creation in their field, as well as the industry's current strengths and challenges.
---
Christopher Molineaux, President and CEO, Pennsylvania Biotechnology Association (PA BIO)
Mel Billingsley, Ph.D., President & CEO, Life Sciences Greenhouse of Central Pennsylvania
John W. Manzetti, President & CEO, Pittsburgh Life Sciences Greenhouse
Shahram Hejazi, Ph.D., Venture Partners, BioAdvance
Stephanie Reisinger, Vice President, Technology Solutions, Evidera
Dr. Hank Safferstein, CEO, Cognition Therapeutics, Inc.
Bernardo Cordovez, Ph.D., Co-founder & CEO, Optofluidics
Since 2002, the Life Sciences Greenhouses (LSGs) have worked through their portfolio companies to envision and develop a broad variety of life-saving drugs and devices, tools and technologies. The three LSGs in Pennsylvania play a crucial role in: funding early-stage companies, creating thousands of jobs, and attracting billions of dollars of capital into the Commonwealth.
We encourage you attend this important and informative event. RSVPs are being accepted by:
Senator Mensch – Tera at 787-3110 or via email at: tbarone@pasen.gov.
Senator Boscola – Julie at 787-4236 or via email at: jcarraghan@pasenate.com.